Salisbury House Library Feature | Salisbury House & Gardens – Des Moines
In 1944 Limited Editions Club created a photo album edition of Wendell Willkie's One World, a non-fiction travelogue from 1943. Willkie documented a 49 day journey around a world in the midst of WWII. Spending four months at the top of the New York Times bestseller list, it remains one of the greatest nonfiction bestsellers and is credited as a perspective shifting book for many Americans. Trained as a lawyer, Willkie became a statesman first as a Democrat, then as a liberal Republican sharing many New Deal philosophies with President FDR. He countered many of the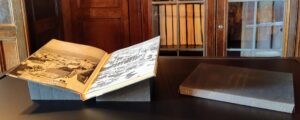 isolationist opinions about WWII, calling for internationalism abroad and equality in the US. In One World he sought to impart to Americans an understanding of an interconnected world and that "our thinking in the future must be world-wide." Through his travels he met with citizens and world leaders of Allied nations, chronicling particularly his visits to Cairo, Russia, and China. In his writing he advocates for the end to colonialism, calls for international collaboration, and the necessity of civil rights in the US. Willkie would go on to run as a Republican candidate in the 1944 Presidential election. He died suddenly in the fall of 1944 but is remembered as an influential statesman and activist. In this volume Willkie's groundbreaking account is accompanied by photographs assembled from press agencies and photographers around the world to document "the faces and the places that Willkie saw". Designed by George Macy, the book was printed and bound by the American Book-Staford Press to include a leather spine and a reproduction of a painting of the cosmos by D. Owen Stephens. All 1500 copies are signed by the author. 
See this book on display in the Salisbury House library from March through May 2022.
Previous Salisbury House Library Features
The Magic Box | Burling Library Lobby
Three special editions of​ Ulysses by James Joyce: ​
– Egoist Press, Paris. 1922. First English edition.​
– Odyssey Press, Hamburg. 1932. Two volumes, ​ first revised European edition. ​
– Limited Editions Club, New York. 1935. ​ Deluxe edition with illustrations by Henri Matisse. 
February 2022 marks 100 years of James Joyce's Ulysses, the avant-garde novel considered his masterpiece. The novel is a modernist retelling of Homer's epic Odyssey and follows the life of Leopold Bloom around Dublin on a fictional June 16, 1904. With a fraught publication history of censorship and obscenity trials, it is a primary example of modernist and experimental literature. See more of these and other unique copies at Grinnell in a digital exhibit, "100 Years of Ulysses".