Salisbury House Library Feature | Salisbury House & Gardens – Des Moines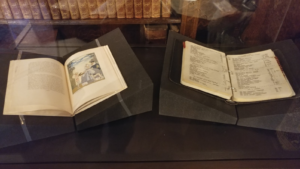 The Romance of Perfume by Richard le Gallienne. 1928. New York & Paris: Richard Hudnut, perfumer.
"Perfume is a poem to be breathed in." This slim volume provides an overview of the romance surrounding perfumes, their origins and uses around the world, a glimpse into the crafting of scents, and lines from poets and authors across centuries describing scents and perfumes in their work. Written by Richard le Galliene, an English author and poet imbued in the bohemian lifestyle of Paris in the 1920s, this volume is completed with sumptuous art-deco illustrations throughout by George Barbier, a French illustrator. It was published by Richard Hudnut (1855-1928), an American cosmetics businessman based in New York and Paris. Included in the back of the book is a booklet featuring Hudnut's Paris parfumerie shop and scents for sale from the brand. A contemporary of Carl Weeks, we don't yet know when and where this book joined the Weeks library. Perhaps Carl and Edith picked it up at the No. 20 rue de la paix salon during a trip to Paris or Hudnut and Armand Company were swapping trade knowledge.  
On display with this book is a notebook of original perfume recipes from Carl's time at Armand. This notebook remains in the Salisbury House archive.
See these items on display in the Salisbury House library through January and February 2023.
Previous Salisbury House Library Features & Past SHLC Exhibits
The Magic Box | Burling Library Lobby
Three special editions of​ Leaves of Grass by Walt Whitman.​
– Author's edition. Camden, New Jersey. 1876.​
– Annotated edition. McKay: Philadelphia. 1900.​
-Modern edition. Heritage Press: New York.  Illustrated with woodcuts by Rockwell Kent.
The Salisbury House Library Collection is home to 18 editions of Walt Whitman's Leaves of Grass. Including an1855 first edition, a copy signed by the author, a dogeared and annotated piece, to a 1950s edition with modernist illustrations, get a glimpse of the impact of one poet and numerous copies from one collector. 
Visit the Special Collections Reading Room (M-F 1:30-5pm or by appointment) to see a first edition from 1855.​ The first editions of Leaves of Grass immortalized 12 poems in a slim volume of 95 pages. Financed by the poet, this edition was printed in a Brooklyn New York shop of the Rome brothers; Whitman is rumored to have typeset a number of the final pages. Of the 795 original copies, 599 were bound in cloth with gilt and the remainder in simple bindings; 200 copies are known today. Variations of typographical errors and edits have caused debate and interest for decades. Yet unexplored in this edition, it is ready for a researcher to compare the common uncorrected errors that further identify these first editions.​
See more of these and other unique copies from the collection in a digital exhibit, Leaves of Grass: Turning the Page.