Past Library Gallery Exhibits | Burling Library, Lower Level – Grinnell, Iowa
Meet 'the book fool' and dive into the Salisbury House Library Collection's next chapter. Learn more about the bibliophile who built this unique collection, the range of material that calls it home, and how it came to Grinnell College Special Collections. Featured items range from 1483 to the 1940s and include one-of-a-kind items, beautiful bindings, and a Shakespeare Second Folio.
September-January 2022
Visit the digital exhibit to revisit this exhibit.  Book Fool: A Digital Exhibit 
Past MagicBox Displays | Burling Library Lobby – Grinnell, Iowa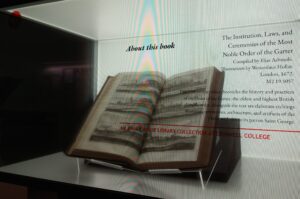 The institution, laws and ceremonies of the most noble Order of the Garter. Collected by Elias Ashmole with illustrations by Wenceslaus Hollar. London: 1672.
This 1672 folio details the history of the Order of the Garter, the oldest and highest chivalric order in Britain. It features detailed illustrations of architecture of St. George's Chapel, a location at Windsor Castle associated with the group, garb and processions of ceremonies, and more. This book most recently came off the shelf for a class visiting Special Collections this semester on the legacy of Saint George and we were wowed by the detail of Hollar's illustrations.  Take a closer look!
October 2021-January 2022
Les Fleurs Animées by J.J. Grandville. Published in Paris by Gabriel de Gonet 1847. Two volume set of satirical 'flowers personified' by a French caricaturist, both volumes are bound in a striking binding with gold stamping on the covers and spines. Printed lithograph illustrations throughout are hand tinted.
Take a look inside this edition in a project from Transylvania University Special Collections.
July 2021-September 2021
Ventures in Book Collection | Special Collections Reading Room
A selection of rare books from the 14th century to 1930. 
May 2021-August 2021
Past Salisbury House Library Features | Des Moines, Iowa
A limited edition of Storiella as She is Syung, an excerpt from James Joyce's "Work in Progress" which would become Finnegan's Wake. A large 4to printed at Corvinus Press, first edition. Bound in a publisher's design of orange vellum with gilt lettering on the cover and spine, with a gold bird on the back cover. Custom orange box. 175 were printed on Arnold handmade paper. Lucia Joyce, the author's daughter, illuminated the initial letter of this edition. February 2022 marked James Joyce's 140th birthday.
January-March 2022
Snow-Bound: A Winter Idyl by John Greenleaf Whittier. This 1930s Limited Editions Club book features a long narrative poem of stories told around the fire by a family weathering a winter storm together in an idyllic rural New England home. Written originally as a gift from the author to his family, the poem was first published in February 1866—7,000 copies were sold on its first day of sale. Whittier was best known as an abolitionist and is remembered as one of America's "fireside poets" of the 19th century. The poem can be read in its entirety at PoetryFoundation.Org.

November-December 2021
The Oregon Trail by Francis Parkman. Limited Editions Club 1943 edition in a full tan saddle leather with stamping by illustrator Maynard Dixon, the artist of pen drawings and paintings throughout.
July 2021-August 2021
The Adventures of Sherlock Holmes by Sir Arthur Conan Doyle. This three volume set from the Limited
Editions Club brings together favorite Sherlock Holmes mysteries like A Study in Scarlet, The Sign of Four, The Adventures of Sherlock Holmes, and Memoirs of Sherlock Holmes as they were printed in the 1890s with original illustrations. The deluxe set was designed by W.A. Dwiggins and feature covers mimicking the infamous walls of 221B Baker Street–the 'wallpapered' boards feature bullet holes left by Holmes and a cameo portrait of his associate Dr. John Watson.
September-October 2021
Previous Salisbury House Library Features